Jimmy Carr is an award-winning comedian, writer and television host, famous for his dark humour and one-line jokes. You can think of him as either a politically incorrect equal opportunities offender or a fake-toothed donkey-laugh plastic-haired comedy mannequin. Either way he was scientifically proven to be the funniest comedian in the UK.
Getting to Know Jimmy…
The best way to get to know the man behind the jokes is to listen to his interviews. The selection below showcases his kinder, more thoughtful side and will also give you a recommended reading list (from a very well-read man).
In 2021's Diary of a CEO he talked about topics like depression, flow state, happiness, the meaning of life and being a new father.
Jimmy is obsessed with music and you can get a feel for his musical tastes from his selection on Desert Island Discs
Ask yourself "what do you want" is a strong takeaway from the Modern Wisdom podcast that covers discussions about the modern obsession with the individual, young men in crisis, cancellation, kindness, quarter life crises in men and much more.
Appearing on the Joe Rogan Experience Jimmy gives his thoughts on, amongst other things, gratitude, JFK, Nuclear power, religion, his love for comedy and how he'd like to see it taught in schools, to help children find their voice.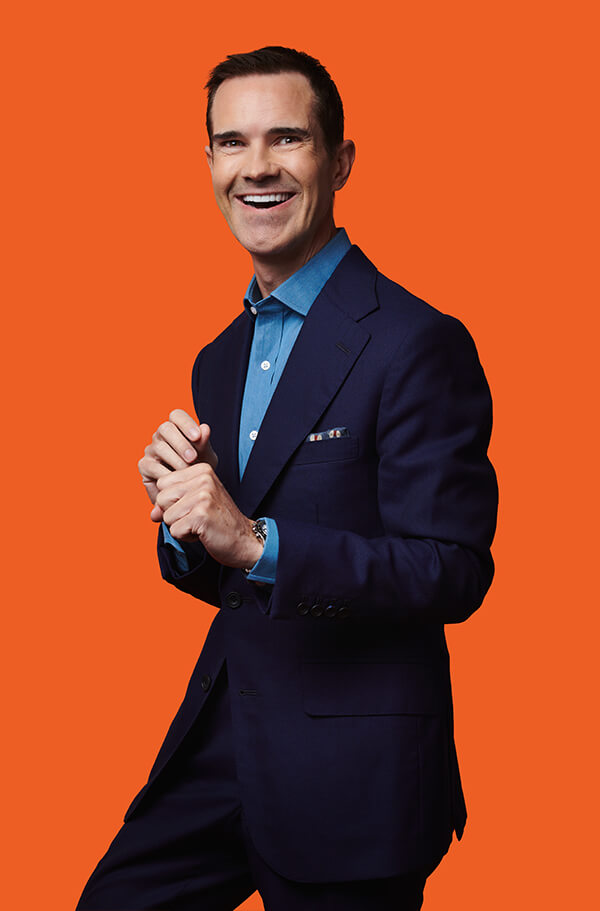 One of the biggest-selling comedy acts in the world, Jimmy consistently performs stand up to sell-out crowds across the globe, performing his shows at venues in over forty countries.
His last tour, Terribly Funny 2.0, sold over 1m tickets globally and his new tour, Jimmy Carr Laughs Funny, has him venturing, at last, into American theatres.
If you've not seen him live before – then be ready for a bit of banter from the stage (only the very brave sit in the front row). He loves a bit of audience interaction – check out this compilation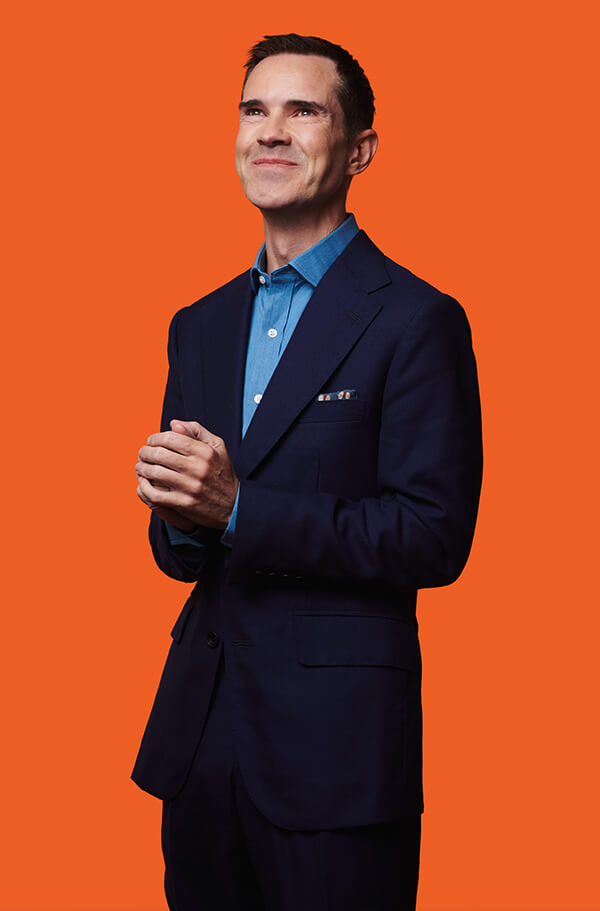 Jimmy is a household name in UK television, well known for hosting Channel 4's 8 Out Of 10 Cats, 8 Out Of 10 Cats Does Countdown and Big Fat Quiz Of The Year, in addition to presenting Comedy Central's Roast Battle UK and Your Face Or Mine. He is a regular on all the top UK panel shows, including QI and A League Of Their Own, has performed as part of The Royal Variety Performance three times, is a judge on hit BBC1 entertainment series I Can See Your Voice and the host of Channel 4 gameshow I Literally Just Told You.
Since 2002 he's been regularly popping up as a guest on a number of American late-night shows. His earliest appearance was on Late Night With Conan O'Brien (returning in 2006 and 2008) and he has also repeatedly appeared on The Tonight Show With Jay Leno, The Tonight Show With Jimmy Fallon and The Late Late Show With James Corden.
Netflix and JFL
He was the first UK comedian to sign a stand-up deal with streaming behemoth Netflix in 2015, releasing three specials on the platform, Funny Business (2016) and Best Of Ultimate Gold Greatest Hits (2017) and His Dark Material (2021 – taken from an early iteration of his Terribly Funny tour).
He also presented and produced an original panel show format for Netflix, The Fix.
He has performed at the Montreal Just For Laughs Comedy Festival since 2003 with more appearances than any other UK act in that time. He's a regular on The Nasty Show and a feared Roast Battle competitor.
Before making the move to streaming, Jimmy was one of the bestselling acts in the comedy DVD market. These shows are now all available on Jimmy's YouTube channel, where he has accrued over 865,000 subscribers and 244 million views, since launching in 2018.
Stand up 2003 (Charm Offensive tour)
Live 2004 (Public Display of Affection tour)
Comedian 2006 (Gag Reflex tour)
In Concert 2008 (Repeat Offender tour)
Telling Jokes 2009 (Joke Technician tour)
Making People Laugh 2010 (Rapier Wit tour)
Being Funny 2011 (Laughter Therapy tour)
Laughing and Joking 2013 (Gagging Order tour)