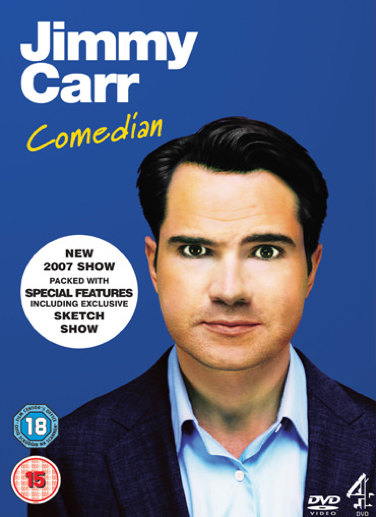 Comedian
Released: 5 November 2007
Tour: Gag Reflex
Bonus Feature: Thumbing In A Softie, Second Life, Soccer Six
Following the huge success of Jimmy Carr Live and Jimmy Carr Stand Up, the multi-award-winning Jimmy Carr returns with his third live stand up DVD, simply titled Comedian.
Recorded live at London's Bloomsbury Theatre, the posh-suited gagster unleashes his rapid fire wit upon his audience with jokes that are just too rude for TV.
The DVD is Jimmy's best yet. The main show is over an hour and a half long and it also contains almost an hour of exclusive bonus material.
Jimmy plays to over 200,000 fans every year around Britain. Watch this DVD and see what all the fuss is about.
As Jimmy explains: 'This isn't a show for the easily offended, it's not even a show for people who are quite difficult to offend. Essentially this is a show for people without a moral compass.'